May 22, 2023
Whether you have experience with the hydraulic and industrial hose replacement industry or you're simply an investor looking for a great opportunity, you've probably heard of PIRTEK. We're a leading global brand that provides various industries with hydraulic and industrial hose replacement solutions. Our hydraulic hose vans offer franchisees myriad benefits and are a low-cost investment.
Here are a few reasons why investing in our mobile unit is a great idea.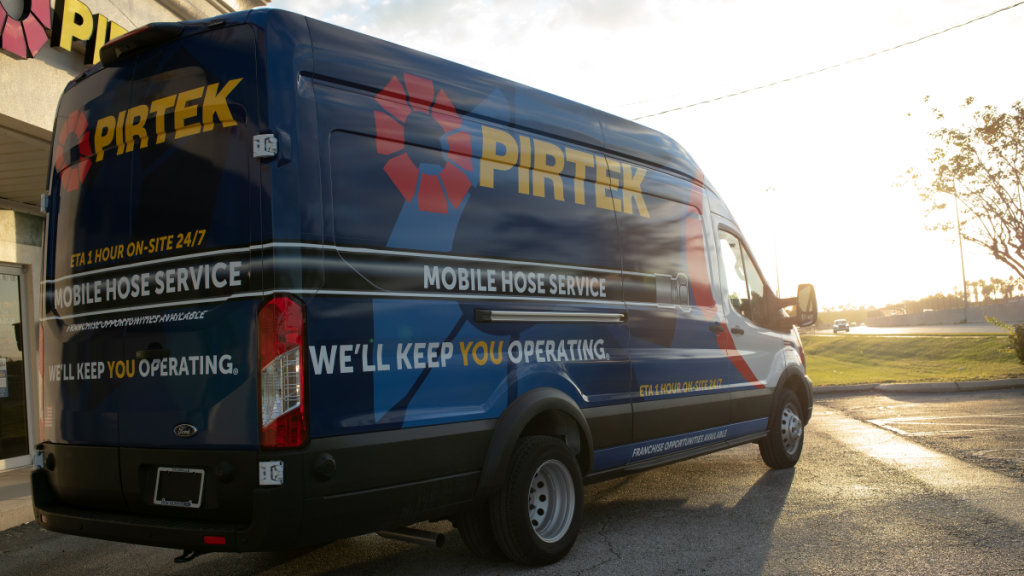 You'll Be Able to Offer Mobile Services to Your Customers
One of the significant advantages of investing in a van for your PIRTEK franchise is the ability to provide 24/7/365 on-site mobile services with a one-hour ETA and after-hour emergency services. Customers in various industries rely on our services to stay operational, and you can help them eliminate the need to leave their worksites to replace defective hoses and reduce their downtime due to failed hoses.
You'll Have the Opportunity to Expand Your Customer Base
By investing in a PIRTEK hydraulic mobile van, you can reach a more extensive customer base than you would otherwise be able to. With PIRTEK, you don't need to sit and wait for customers to visit your store. Instead, you can take your store to your customers.
You'll Have the Flexibility to Run Your Business How You Want
A van provides entrepreneurs with flexible business operations and makes it possible to offer mobile services that are reliable and efficient. You can also provide hydraulic and industrial hose services that meet each customer's specific needs. The ability to provide on-site services for customers sets our franchisees apart from competitors who can only offer standard services in one location.
You'll Reduce Operating Costs
PIRTEK offers two investment options for prospective franchisees: Tier 1 and Tier 2, each catering to different business goals and investment levels. Our Tier 1 option is a more comprehensive investment that includes establishing a full-scale Service & Supply Center with a physical storefront, inventory, and staff. Tier 1 is ideal for those looking to make a larger investment and seeking a more extensive presence in the market from the outset.
Our Tier 2 option is designed for those who prefer a smaller initial investment and a more gradual growth strategy. This option focuses primarily on the mobile service, allowing franchisees to operate without a physical Service & Supply Center.
Investing in a PIRTEK van can help you cut down on expenses like rent, utilities, and maintenance costs associated with a physical location. This fully mobile business model enables you to generate income and build your clientele before converting to a Tier 1 brick-and-mortar location.
Being a PIRTEK franchise owner is an opportunity to become part of a successful brand, provide essential services to your community, and achieve financial success.
Get in touch with PIRTEK today to start the journey toward launching your hydraulic hose van.