November 1, 2022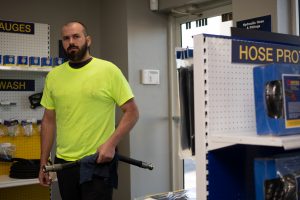 Starting a business during a recession isn't a decision many entrepreneurs make because customers want to be more frugal during an economic downturn. They want to lower their spending and find ways to save money. 
While it's known there is never a perfect moment to start a business as challenges and risks are always part of the equation, the reality is that not every company is destined to fail because of a recession. Some businesses, like business-to-business (B2B) franchises, can thrive during an economic slump. Read more about the benefits of starting a B2B franchise with PIRTEK.
We Have the Experience
A recession has disparate effects on different businesses. However, an essential franchise like PIRTEK understands how an economic downturn can negatively affect business, and we ensure our franchisees succeed even during a recession. 
You might ask how? Many businesses fail within ten years, but our hydraulic and industrial hose maintenance and replacement business has existed for over 40 years and operates in over 400 locations in more than 23 countries. This fact differentiates our franchise opportunity from the others because we have a proven business model that works despite a recession.
Our decades of experience also mean we have streamlined the process of helping new franchisees open their doors while providing strong franchise support to ensure they stay operational regardless of an economic downturn. 
Less Competition Entering the Market
A healthy economy attracts more competition as established companies thrive and more start-ups enter the market to compete. In times of crisis, it all seems to evaporate, but in reality, it leaves room for those willing to take risks. 
During a recession, there's inherently less competition entering the market. With our franchise opportunity, you don't have to worry about the threat of new entrants in the hydraulic and industrial hose maintenance and replacement segment. 
From Mobile Service to Brick and Mortar: We Have Different Franchise Tiers to Choose From
While PIRTEK's business model allows franchisees to keep up with an ever-evolving industry and the needs of their clients, we also offer investors two franchise tiers to choose from — to suit their needs. 
Our classic model Tier 1 includes several company vehicles for mobile service and a brick-and-mortar store. Our Tier 2 exclusively offers mobile services from two or more service vehicles. Most franchisees who choose this option, progress to Tier 1 within three years of operation.
We Are Recession-Resistant
Whether there's a recession or not, PIRTEK franchisees enjoy the benefits of being in a recession-resistant business. In an accelerating industry, our franchisees will offer an essential solution that is hard to find elsewhere for businesses that depend on hydraulic and industrial hose maintenance and replacement services. 
Comprehensive Franchisee Training
Running a business isn't easy, so having the expertise of an established brand will prove invaluable, especially during a recession. PIRTEK franchisees receive comprehensive training and ongoing support, guidance on navigating their business operations, and assistance with issues that may arise during their franchising journey. 
Investing in a business-to-business franchise rather than taking the independent start-up route gives you an advantage, even amid a recession, because our services keep our brand top of mind, which helps our franchisees win new business.
Want to learn more about our hydraulic hose franchise investment opportunities? Visit our website to start a conversation with a PIRTEK team member today!