November 6, 2022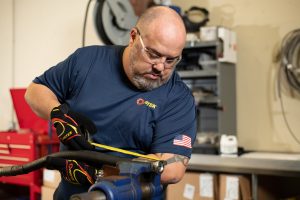 Acquiring a franchise is an entrepreneur's easiest business decision because investing in a well-established brand outweighs the disadvantages of starting a business from scratch, as you benefit from the franchise's business model. 
However, many potential franchisees get confused about the kind of business model franchises offer to invest in, as there are plenty of options. A hydraulic hose replacement business-to-business (B2B) franchise is one of the best investment options, and we will tell you why. 
What Is a B2B Franchise Model? 
A business-to-business franchise model offers products and services for other businesses instead of individual consumers. It is divided into two types, namely B2B services and B2B products. When you buy into a B2B service franchise, you will provide services needed by another business, for example, a construction company in need of prompt service to avoid unnecessary downtime on the job. Whereas, a B2B product franchise provides a variety of products to another business like hydraulic hoses, and accessories needed by an industrial company to continue with its operations.
With PIRTEK, you get the best of both worlds as you specialize in offering products and services to other businesses. Here are some things you should know about owning a hydraulic and industrial hose replacement business. 
No Experience Required 
Starting a hydraulic and industrial hose replacement and maintenance business with a global franchise like PIRTEK is a great investment opportunity for entrepreneurs, even those with little to no mechanical experience. With more than four decades of experience, we have the expertise to provide the training you need to start your industrial franchise. 
Many Industries Rely on PIRTEK
Investing in a hydraulic and industrial hose replacement franchise has many benefits, one of which is that many industries rely on us for quick responsive service and quality products. A PIRTEK franchisee doesn't have to worry about  attracting clients from different industries as we offer reliable products and services for sectors that include: 
Construction

Recycling 

Manufacturing 

Garbage and waste disposal

Manufacturing

Industrial 

Transport

ation

Earthmoving

Oil and gas 

Material handling

Production

Marine 

Automotive

Landscaping

Mining

Defense

Agriculture
Service 24/7/365
The combination of quality products and services available 24/7/365 has allowed PIRTEK to maintain partnerships with various industries. Your franchise will work around the clock to stop the kind of operational downtimes businesses fear so your clients are at ease. 
Incentives for veterans 
Many veterans leave the military with a combination of leadership and teamwork skills to lead a franchise location (or many!). PIRTEK offers an exciting opportunity for veterans who want to start their businesses. Our veteran franchise program creates a pathway to attracting prospective veteran franchisees by providing discounts on franchise fees to qualifying veterans.
A hydraulic and industrial hose replacement business gives investors an advantage in a niche market. PIRTEK's ability to focus on well-defined demographics has contributed to our recognition as a trusted brand. With low competition in the industry, our franchisees are regarded as industry leaders and specialists, contributing to their business's success. 
Does a B2B franchise in the hydraulic and industrial hose replacement industry sound like a franchising opportunity you would seriously consider? Visit our website to start a conversation with a PIRTEK team member today!