October 22, 2021
Prestigious Recognition for PIRTEK's Hydraulic and Industrial Hose Service Franchise
As one of the hottest hydraulic and industrial hose service franchise opportunities, PIRTEK USA can help you break into the booming industrial franchise business with a successful brand.
PIRTEK's global network of more than 500 franchise locations is seeing consistent success as a trusted B2B industrial and hydraulic hose service franchise. Our clients work across a variety of industries and rely on us to provide professional repairs without lengthy downtime and lost progress.
There are many advantages to our hydraulic and industrial hose service franchise opportunity, from our personal guidance to a time-tested business model. But none of this would be possible without the leadership we receive from President and CEO Kim Gubera.
An Interview with President and CEO Kim Gubera
Recently, PIRTEK USA President and CEO Kim Gubera were featured in an interview conducted by Adam Mendler, CEO of The Veloz Group. Ms. Gubera discussed the hydraulic and industrial hose service franchise opportunity, and what it means to be a leader. Also discussed are tips for becoming an effective leader, taking your leadership skills to the next level, and management advice.
The interview outlines Ms. Gubera's career, and how she began her career as a staff account with U.S. Lawns. Ms. Gubera's effective leadership is attributed to her focus on mentoring and developing employees, franchise owners, and employees of franchise owners to the greatest extent she is able.
Leaders can take their leadership skills to the next level by staying relevant, expanding their knowledge, and having mentors. By becoming people-centric, knowing your numbers, and staying true to your core values and culture, you can yield the best outcome over time.
An excerpt:
Adam: In your experience, what are the key steps to growing and scaling your business?
Kim: While that is a very big question, I'll give you one essential component for growing a business like PIRTEK USA that is a franchise. In franchising, you must stay close to your franchisees in order to see the business grow. This might be counterintuitive to what you would think. Franchisors might believe they only have to grow in a number of units to be successful, but we take a two-pronged approach: growing the individual franchise owner's businesses and adding more franchise units. You stay close to the franchisees by listening and interacting. You must be open to not only giving feedback but to receiving feedback. We strive to have close relationships with all our owners, and we build that relationship through mutual trust and mutual respect.
To read the rest of the interview, please visit this link: https://www.adammendler.com/blog/kim-gubera
A Feature in Franchise Times Magazine
PIRTEK is consistently ranked as the top hydraulic and industrial hose service franchise. We continue to make headlines and receive high rankings because we work hard to make sure that our franchise owners have all of the tools and advantages they need to be successful in a collaborative environment.
We were recently ranked third in overall Unit Growth at 28.5 percent by Franchise Times Magazine Top 200+. This is a huge achievement on a worldwide scale and a testament to our focus on building our brand. We are extremely proud of our franchise network. Read the full report on page 31 of their October issue.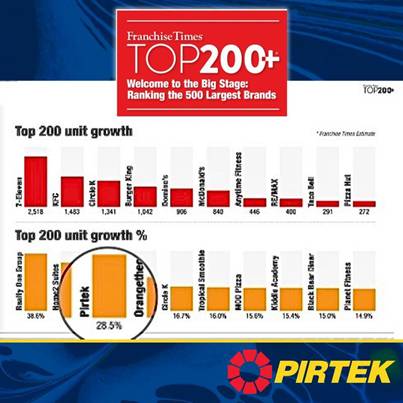 There's never been a better time to consider a hydraulic and industrial hose service franchise opportunity with PIRTEK.